Marquees and structures
Architectural canvas
Leisure, garden
Industry
Transport

Sliding curtains >

Sliding roofs tarpaulins >

Rolling-up tarpaulins >

Carapax securit >

Securized curtains >

Tarpaulins for tippers >

XL standard tarpaulins >

SolidBulk system >

Canvas on arches >

Glass transport tarpaulins >

Flexiway system >

Customized tarpaulins >

Repairing >

Accessories >
Marking and advertising

Products & Services > Transport > Tarpaulins for tippers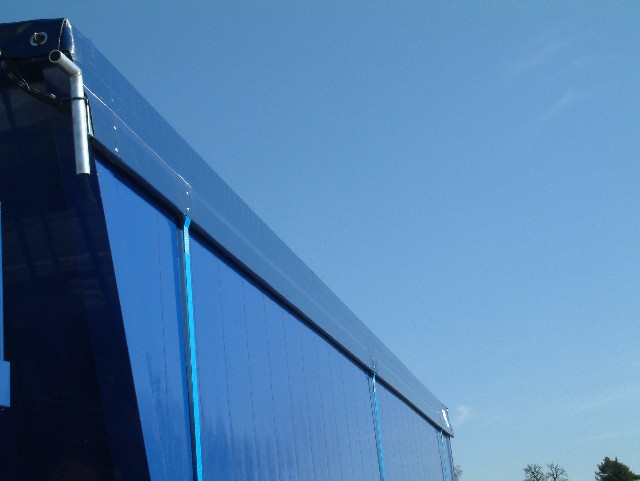 Plastified polyester canvas 25 oz (700 gr/sqm), 9/9.
Assembly by high frequency soldering, super resistant.
Colour: central part in white colour (for internal brightness). Roof sides in the same color as the tipper.
With strengthening pieces under all the arches and in all the corners.
With tightening straps.
With a reinforced pocket for aluminium tubes.
Possibility to manufacture the aluminium board 4,7x1,2" (120x30/3 mm) + the removable handle and the round intermediate tubes.
Possibility to furnish and place the buckles on the truck.